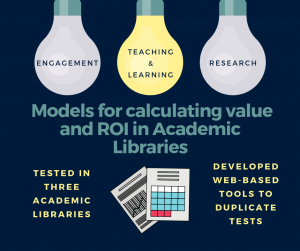 Values, Outcomes, and Return on Investment of Academic Libraries ("Lib-Value") is a three year study funded by the Institute of Museum and Library Services (IMLS) (grant # LG-06-09-0152-09). The study, was completed between December 1, 2009 and November 30, 2012, is Phase III of the earlier ROI projects. Phase III sought to define and measure some of the numerous other ways in which the library creates value. This phase of the research focused on three main areas: teaching / learning, research, and the social, professional, and public engagement functions of the library. Outcomes of this project included: 1) models for calculating value and ROI in academic libraries, 2) web-based tools for assessing ROI andvalue which can be used by academic librarians, and 3) an ROI and value calculation in three test libraries.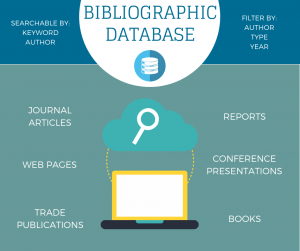 Despite the grant concluding in 2012, the Lib-Value researchers have compiled resources into a bibliographic database focused on the value and ROI of libraries. This database is updated periodically to keep up with current research and dates back to 1959. The database includes over 1000 individual items from library and information science literature as well as relevant material from such diverse disciplines as higher education administration, museum assessment, and environmental economics. Though primarily comprised of journal articles, the database also features web pages, books, conference presentations and papers, reports, and other materials. In addition to works presenting accounts of specific assessment projects, database users will find more general discussions of conceptual approaches to assessing value and return on investment, and descriptions of specific methods for evaluating the positive outcomes of providing a wide variety of resources and services.
The database can be searched, browsed by keyword or author, or "filtered" to retrieve records by author, type, or year. The Lib-Value team has also identified materials related to each area on the first two levels of our functional map for convenient browsing. Individual records can be exported into Bibliographic Management software and services.